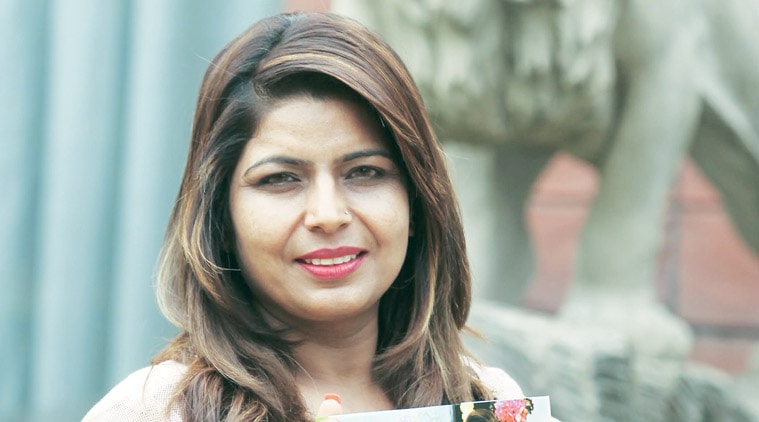 Seema Sharma with her book Recipes in Chandigarh on Wednesday. (Source: Express photo by Jasbir Malhi)
From taking part in a cookery contest to running a food catering and hospitality company with her husband, city entrepreneur Seema Sharma has come a long way.
Sharma's love for the culinary arts blossomed nearly a decade ago when her son signed up her for a cookery contest.
Her love for food and cooking led her pen her first book, Recipes, which was launched here on Wednesday.
The book packs in a robust line-up of vegetarian recipes that give home-made dishes a gourmet twist.
So you have the likes of Asparagus chai, paneer jalebi, pasta in brinjal sauce, bharwan ghiya, polenta sticks with sarson ka saag… to list a few.
Sharma said, "Food plays an important role in our home. When we are looking to have guests over, our first concern is the menu. I am sure that the situation is the same in most households. That is why I had decided to put together a collection of recipes that make everyday food more flavoursome and exciting."
Sharma loves to experiment and that is reflected in the use of ingredients in her dishes.
To make it a complete package, Sharma's packed in everything from non-alcoholic party beverages, snacks, main courses to chutneys, rotis and desserts.
Vrat (fasting) dishes also find place in the book along with a section – Instant Cooking. "There is a growing demand of quick to make recipes and I have given some tried and trusted options for those who aren't looking forward to spend too much time in the kitchen after a long day of hard work," said Sharma.
A self-taught cook, the entrepreneur is a fan of celebrity chef Marut Sikka. "I find his gravies and style of cooking similar to mine," she added. Sharma's fuss-free style and love for black pepper are the most noticeable in her recipes.
"I strongly recommend using of fresh vegetables and masalas, as these are healthier and add flavour to the food," Sharma said, who took close to two years to compile all her recipes.
"While this book showcases mostly north Indian food, my next book will offer regional flavour from other parts of India," said Sharma.
Though she has omitted non-vegetarian recipes (she is a vegetarian), the author believes it is her USP. "It's not often that one experiments with greens and I love to do that. These recipes have been tried many times over," she said.