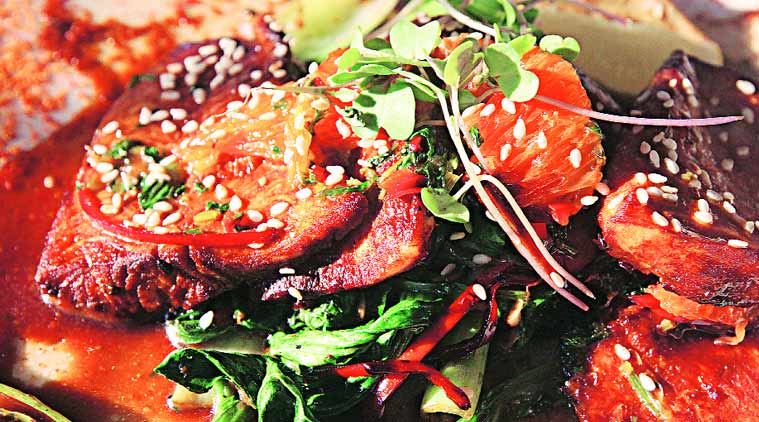 Given that it is under the aegis of Ritu Dalmia, Diva Spiced is eclectic to say the least
The restaurant business in Delhi is much like the ancient dynasties of China, before the nation came to be ruled by committee. From Ming to Sung, each era left an indelible, distinct impression on its domicile. Similarly, in Meherchand Market, after the passing of the formidable Chez Nini earlier this year, it is time for another restaurant to rule the roost. Vying for the laurels is Diva Spiced which has recently taken up residence in the same spot.
Given that it is under the aegis of Ritu Dalmia, Diva Spiced is eclectic to say the least, whether it is the space, music or menu. In the interest of brevity, we shall concentrate on the latterest. Asian in persuasion but with a global execution (taro spiced burgers, come on) the food doesn't get lost in translation, with all due respect to Ms Coppola.
We begin prosaically enough, with a Crystal Dumpling basket with more variants than a promotional ad for racial quality. While the concept may be dated, the flavours are anything but. The slow roasted pumpkin and water chestnut is scrunchy while the Prawn and Japanese Ginger has slightly more bite than the average Kitana. Our favourite is the Wild Mushroom, which is so fragrant/pungent as to have been recently sniffed out by a prized truffle pig.
Our main course comprises the Udon Noodles and Spiced Pork Ribs. The noodles, served in a stone bowl, and garnished with your choice of greens and proteins, are everything those ads of childhood past (you remember them, all those noodle ads) promised but never delivered.
Soupy with a resounding slurp, each millimetre soaked in flavour, yet a filler rather than a stuffing; the universe finally delivered on what the TV promised. Then there are the ribs. Without devolving to superlatives we will just say the ribs are An Experience. And the kidney bean mash accompanying it, which instantly transports you back to the comfort food days of rajma. It's inspired.
For dessert, we have a Salted Caramel Tart which could put entire ad campaigns of famous chocolate brands to shame. Satiation has never been a bon mot.
Meal for two: Rs 3,000 (including taxes, excluding alcohol)
Address: 79-80 Meherchand Market