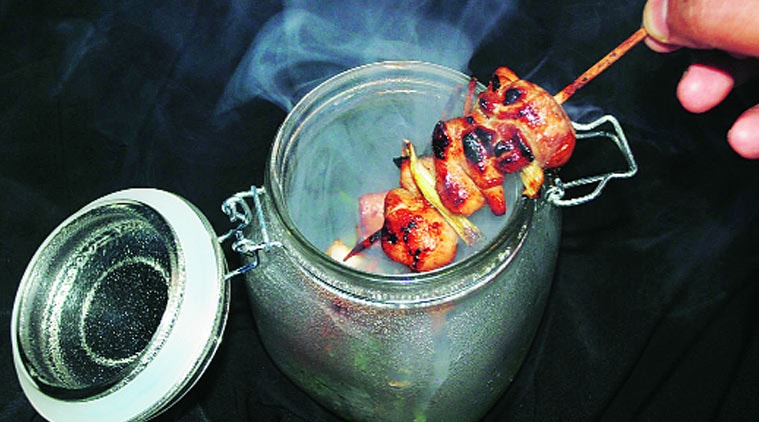 Cookie Jar Yakitori Chicken
Inside a cookie jar placed on our table, chunks of chicken on skewers sit amid applewood smoke. Once the lid is lifted, the aroma of the chicken, grilled to perfection, mixed with that of the flavoured smoke, fills the room, whetting our appetite. The ongoing Robatayaki Festival at Santacruz-based Joss has several delights such as the Cookie Jar Yakitori Chicken.
In Japanese cuisine, robatayaki — often shortened to robata — refers to a cooking method similar to barbecue. However, the difference lies in the kind of charcoal used for cooking — the white oak variety or Bincho-tan (in Japanese).
Using this charcoal has two key effects on a dish. Firstly, it enhances the smokey flavour. Secondly, since it burns slower than regular charcoal, the butter or fat dropping from the meat falls on the coal, merely emitting smoke and not flame, which further adds to the taste.
A quick round of Joss's signature Enigma mocktail helped us cut through all that technicality. The sweet concoction of Australian dark grape, rambutan and hint of cinnamon was a promising start to the meal.
All the dishes introduced as part of this festival employ the robatayaki cooking technique, either to grill meat or vegetables.
What followed was a series of dishes that played hide-and-seek with our senses. Starting with the Turkey bacon-wrapped prawn maki, a simple and delicate starter. One could devour the flavours of the sea and barbecue even with eyes blindfolded.
Much like Japanese design sensibilities, this minimalistic grilled pork belly in shiso seed glaze allowed the meat do all the talking. Vegetarians can look out for the spiced tofu cheese that comes topped with red bean paste. It combines the right amount of sweetness with spice. However, the F2T (Farm to Table) vegetables with miso chili parmesan paled in comparison to its predecessors.
For mains, it was a combination of chicken and shitake mushrooms thrown in with microgreens, sprouts and runny egg yolk sitting pretty atop flavoured rice. The wholesome bowl of Korean Dolsot Bibimbap can be easily split between two people with healthy appetites.
For dessert, we picked the chocolate and walnut creme brulee, a house speciality that comes with a lovely crust. Mildly sweet and creamy, the dessert features in the restaurant's regular menu.
The Robatayaki Festival will continue till the end of this month at both Joss, and Umame in Churchgate.